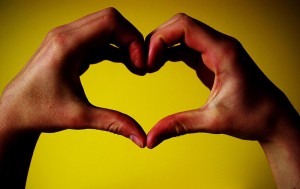 For most men, Valentine's Day is a most-dreaded holiday. Since you can't very well skip it, your trusty Tucson mover is here to help with an ingenious V-Day game plan sure to wow your lady, and more importantly, prevent you from having to move to the dog house! Follow these simple steps and your girlfriend/wife will swoon knowing that you put thought and heart into making her Valentine's Day dreams come true.
If you typically underachieve on Valentine's Day, keep your preparations for Monday covert; if your better half is expecting to be disappointed on Valentine's Day, then she'll actually be surprised to see any level of effort this year… a pleasant surprise is all most women want on Valentine's, so don't spoil it! Women like being catered to, which is why this game plan calls for a home-made Valentine dinner. Here is the key to a fail-proof home cooked meal: the slow cooker. While your honey is at work, you toss in the ingredients to your recipe of choice, and you're free from the kitchen for hours; the slow cooker does all the work, all you have to do is periodically monitor the delicious aroma it yields (sampling your dish from time to time as it cooks is also ideal!)
STEP ONE: Make a solo trip to the grocery store for supplies. I suggest bringing a pen and checklist with you if you're not too grocery store-savvy; you don't want to end up omitting a crucial ingredient! In addition to the ingredients your recipe calls for, pick up a couple red candles and a bouquet of roses (you stand to earn bonus points if you happen to know your lady's favorite flower, get those instead if this is the case, kudos!) Valentine's Day is one holiday where being tastefully cliché is permissible. Rose petals leading from the front door to the dinner table make for a tasteful finishing touch to your Valentine's portrait of success!
STEP TWO: Get your lady out of the house. Assuming she will be at work all day, you are in good shape, just don't let it slip that you have big plans for the big day. If there is no clock-punching on her V-Day agenda, send her off to a surprise massage therapy session; what girl doesn't love a good massage? While she is away, you'll have plenty of time to prep your ingredients for a set-it-and-forget-it simmer. Set up your candles, dinner table, etc; make sure to prepare a soundtrack for the evening as well. After all is completed and your home is V-Day ready, intercept your girl and take her to a mid-day movie. She won't suspect a thing after having spent the day getting a massage and seeing a movie with you, so the element of surprise is still alive and ready to do you justice to the fullest!
STEP THREE: Arrive home. The aroma of delicious home-cooked goodness will instantly attack her nostrils swelling her Valentine's euphoria levels to capacity. With your hand on the small of her back, gently lead her to her seat at the dinner table, pull out her chair for her, and proceed to serve her dinner. After a seriously romantic dinner, I suggest taking your better half out for some post-feast drinks and desert at your favorite night spot. I trust you can handle the wheel from this point forward!
There you have it! You have just executed the ultimate Valentines Day itinerary to a T! See how easy that was? Your Tucson mover knew you could do it! Congratulations on a job well done. If you think this Valentine's Day game plan was effective, imagine how a local move must be with Tucson's most trusted professional movers! Happy Valentine's Day, stud!

This entry was posted in